Hambleton Athletics and Running Club undertake a 5km challenge in support of a different local charity each year – and through the power of social media, a number of non-club members also take part virtually. Congratulations and a massive well done to all those who ran or walked (on two legs or four!), in order to raise £300 for Hambleton Foodshare this year. Lots of club members opted to use their 'Christmas Lights Run' in Bedale to complete the 5km, donning angel wings, haloes and Santa hats to add to the fun.
Max the greyhound was delighted with his medal! Max's owner and club member Michael Bonner had this to say: "Our whole family took part in the HARC Angels event. I walked 5km while my wife ran hers with the club. Even the dog managed to complete a 5km walk! It was good to be able to help out such a great cause at a time when their services are sadly needed more than ever."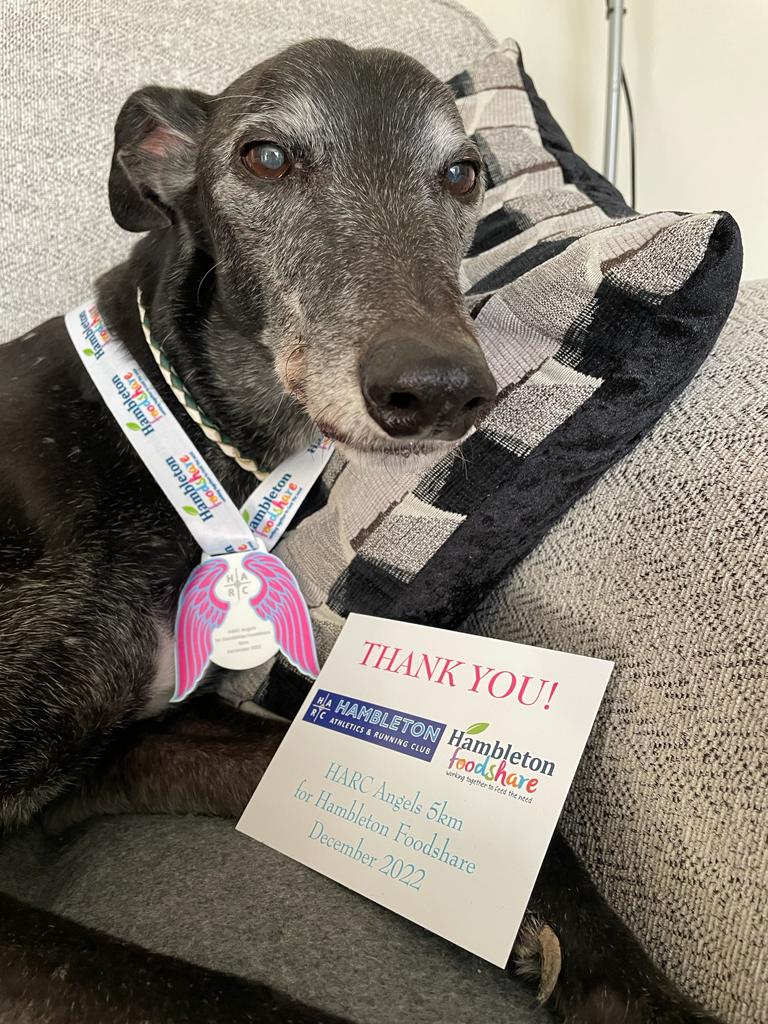 Hambleton Foodshare Co-ordinator Alison Grainger thanked everyone for their generosity. "We are very grateful for the support and funds raised by HARC Angels – the money will really help us at what is proving to be a very busy time, as we are seeing unprecedented demand for our service," she said.
Watch out for the adverts from October onwards if you'd like to participate in the next HARC Angels event. So far, funds have also been raised for Dementia Forward, and Cleveland and Swaledale Mountain Rescue Teams, with the 2024 charity yet to be announced.
To find out more about how you can support Hambleton Foodshare or access their services, click here to visit their website.